Fossil Free Cambridgeshire is calling on all local councils in Cambridgeshire to divest investments and pensions from fossil fuels, to institute and abide by ethical investment policies that prevent profiting through causing social harm, and to invest in sustainable industries, such as the renewable energy industry, that help to solve the environmental and social problems we face.
We are a local campaign of concerned citizens. We are working to support our elected representatives to make choices which are best for both the City of Cambridge and Cambridgeshire in relation to fossil fuel investments.
Cambridge Rise for Climate
This September 8th, thousands of communities from all over the world are Rising For Climate in a Global Day of Action! Multiple organisations in Cambridge, including Pivotal, have teamed up to stage a powerful action that will send a message to the County Council, the University and the Government. We demand immediate political action!
During the day, from 11am, there will be stalls and performances at the Market Square. Join one of our discussions, learn more about climate justice and how can you get involved in any of the campaigns in Cambridge. Be part of it!
And....
Click on this paragraph to download a letter to send to Councillor T. Rogers, Chairman of the Cambridgeshire Pension Fund, to call on him to take the lead in ensuring that the Pension Fund makes an immediate commitment to a progressive and complete divestment from all fossil fuel companies within five years.
What an Event!!
May 5th to May 13th World-wide
We Were Part of Something Big!
Starting 5th May, a global wave of activities lasting ten days took place across 42 countries on six continents, with thousands of people participating in the Global Divestment Mobilisation 2017.
Campaigners, faith groups, academics and impacted local communities built on the Fossil Fuel Divestment movement, which is now spreading in Asia, Latin America and Africa.
In the UK, over 40 events took place calling on local government, faith, health, cultural institutions, politicians and banks to divest from fossil fuels.
As part of the Global Divestment Mobilisation 2017, Fossil Free Cambridgeshire met with local council workers at their places of work in Cambridge and Peterborough to engage with them on the topic of divestment with regards to their pension fund and suggest actions for the council workers to follow up in making a stand for their future, a future free of the volatile risks involved with fossil fuel investments.
Fossil Free Cambridge Meeting with Council Workers at Shire Hall Cambridge as Part of Global Divestment Mobilisation 2017
And Here's the Leaflet We Handed Out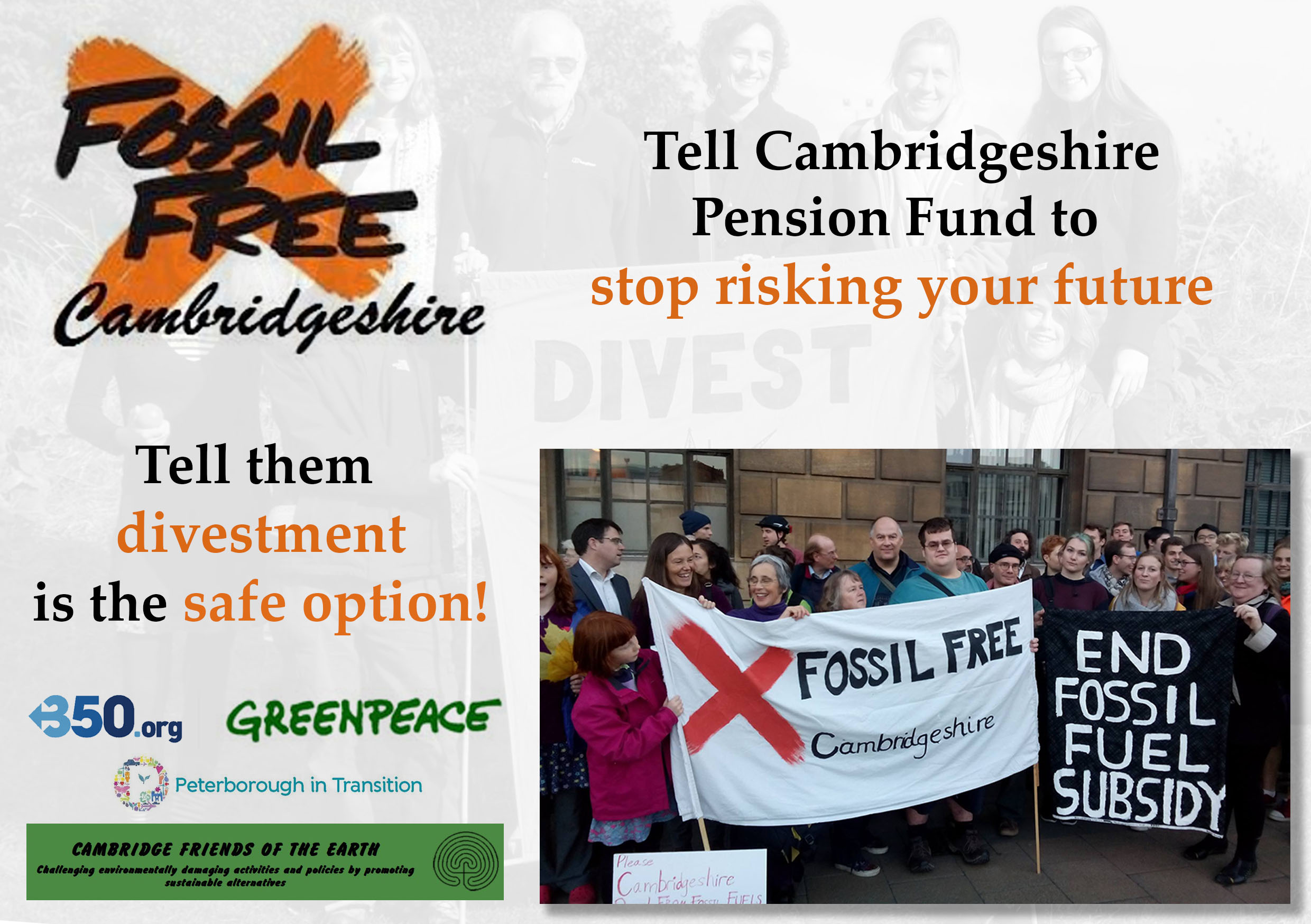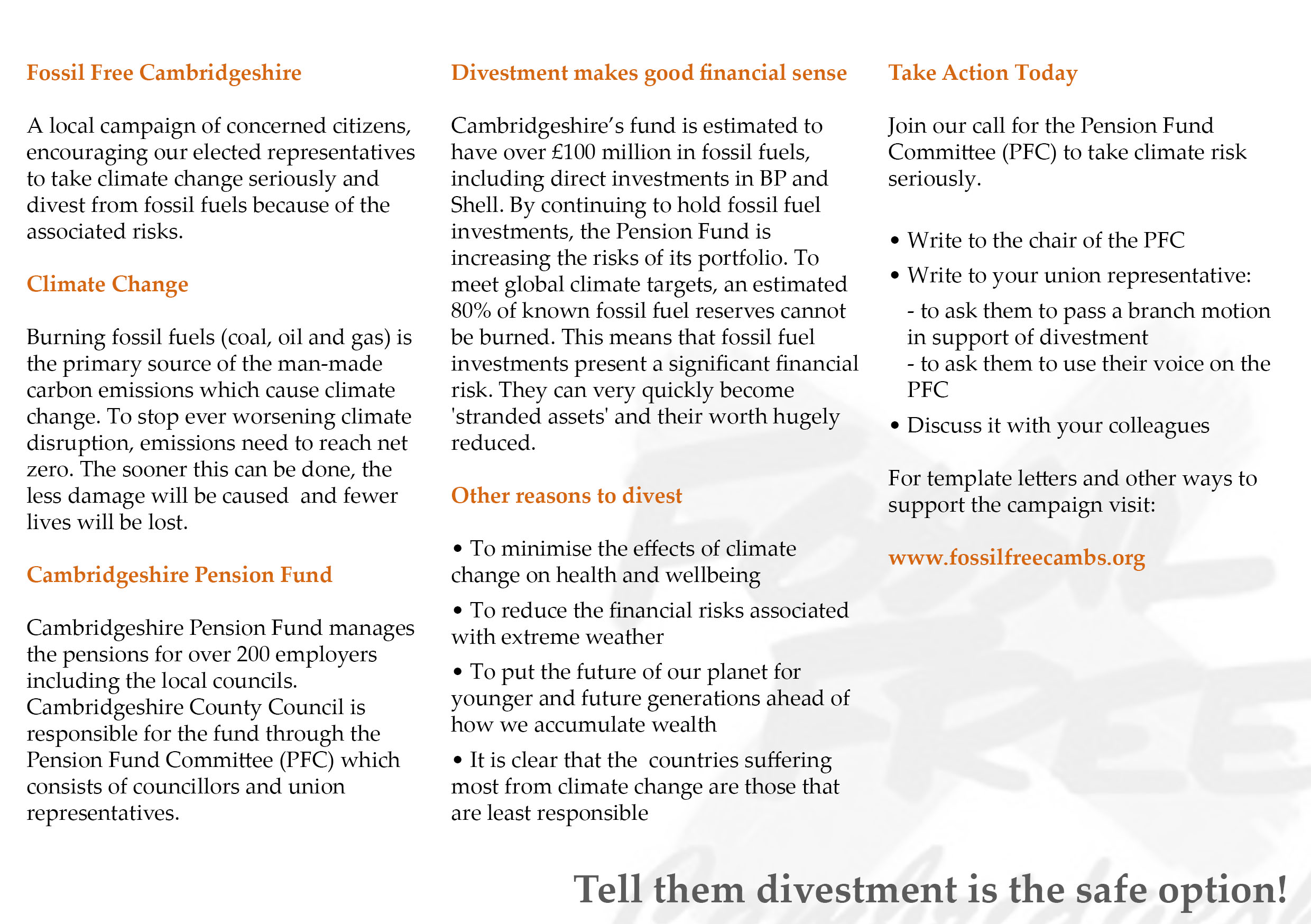 Click here for examples of letters and much more that YOU can send to your local Council any other institution that you think should divest from their investments in fossil fuels
Good News!
UNISON Cambridge Hospitals Moves to Support Fossil Fuel Divestment
Healthcare workers recognise climate change as 'biggest threat to public health' and vote to end pension fund investments in fossil fuels
The branch representing UNISON healthcare workers at Addenbrooke's Hospital has this week (October 7th 2016) backed the 'divestment' movement by supporting calls for pension fund investments on behalf of UNISON members to 'divest'.
Click here to download full press release.
Cambridge City Council Backs the Move Towards a Fossil Fuel-Free Future.
Council supports divestment from fossil fuels and calls on county council and Cambridgeshire Pension Fund to work towards divestment
Fossil Free Cambridgeshire welcomes Cambridge City Council's commitment to show leadership for a future free from fossil fuels after a motion was passed in full council on the 22nd October 2015.
Click here to download full press release.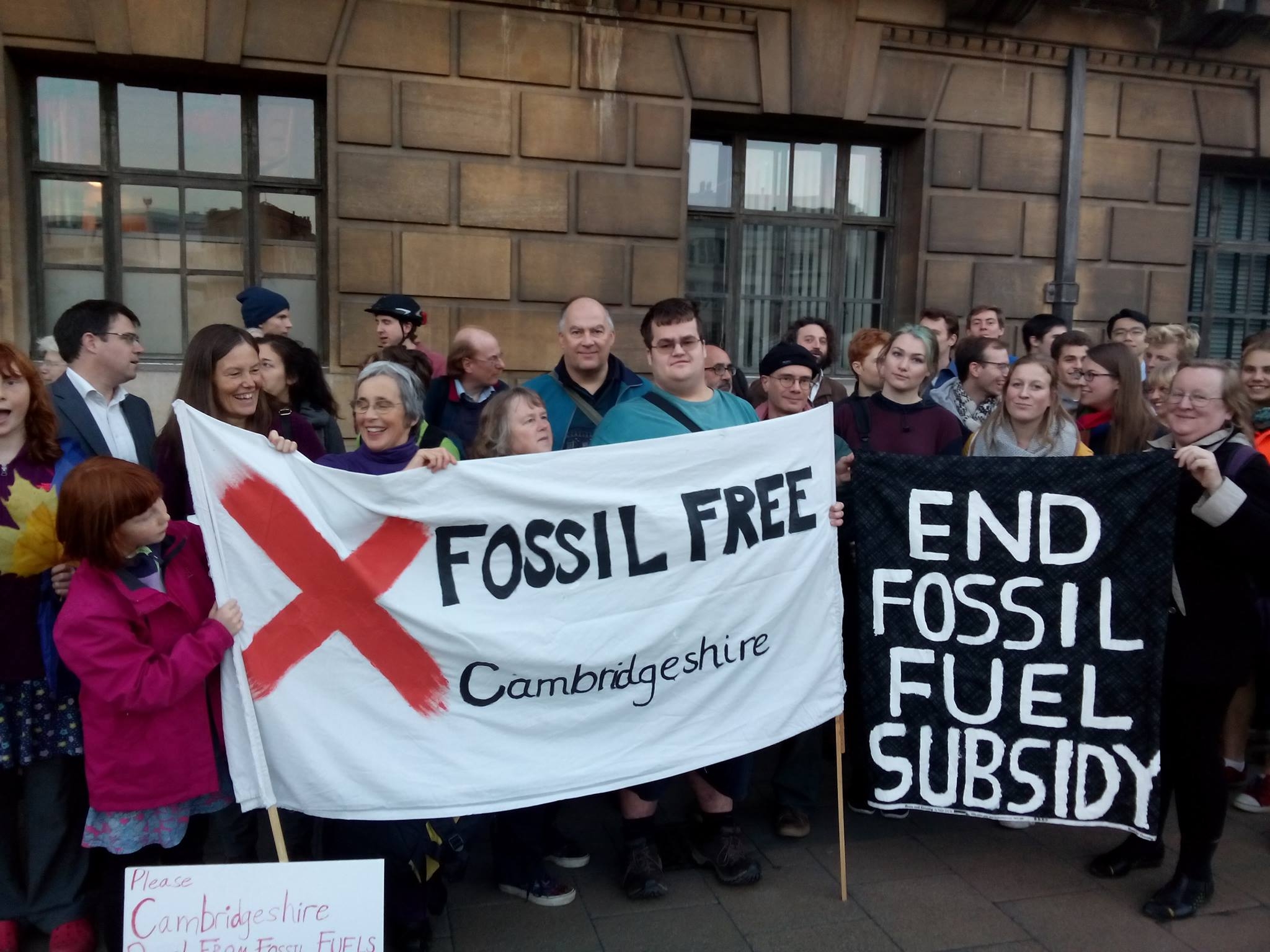 Well attended rally before the City Council meeting